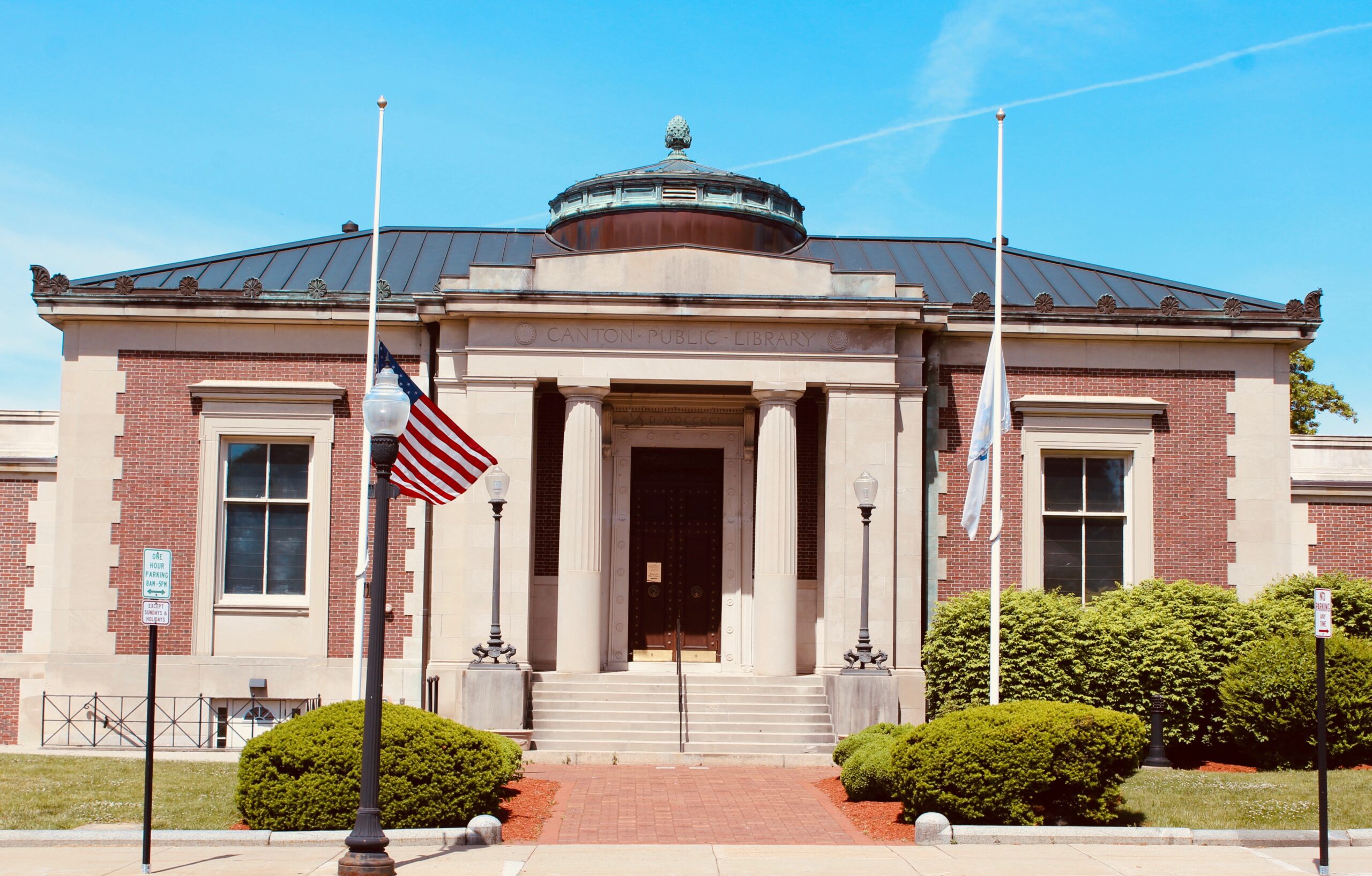 Canton
The Town of Canton has a collective mission to provide quality services, which efficiently and effectively promote, preserve, and protect its resident population, its environment, and its sense of community. The Town's main goal is to enhance its special character and the quality of life for its residents. It earned its name in 1797 due to the early belief that Canton, China was on the exact opposite side of the earth. In 1801, Paul Revere chose Canton to be home to the nation's first copper rolling mill. One of the oldest houses in America, the David Tilden House, has stood in Canton for nearly 300 years.
Canton lies at the foot of Great Blue Hill. The Canton River flows through the center of town, linking a chain of small lakes into the Neponset River. In addition to wooded land, the area includes wetlands, particularly in the eastern part along Route 138 near the Randolph and Stoughton borders, and in the western part along I-95.
The Town was officially incorporated on February 23, 1797 and is located in Norfolk County. In the 2020 census the population was 24,370. Canton is part of Greater Boston, about 15 miles southwest of downtown Boston and can be accessed through the Providence/Stoughton Commuter Rail Line. It has a total area of 19.6 square miles, of which, 18.9 square miles of it is land and 0.6 square miles of it (3.27%) is water.
The Canton School Department oversees a high school, a middle school, a regional technical school, three elementary schools and The Rodman Early Childhood Program all of which are committed to excellence in educating students.
Points of Interest include: The Paul Revere Heritage Site, Trillium Brewing Company, Eleanor Cabot Bradley Estate, Museum of American Bird Art at Mass Audubon and the Blue Hills Ski Area.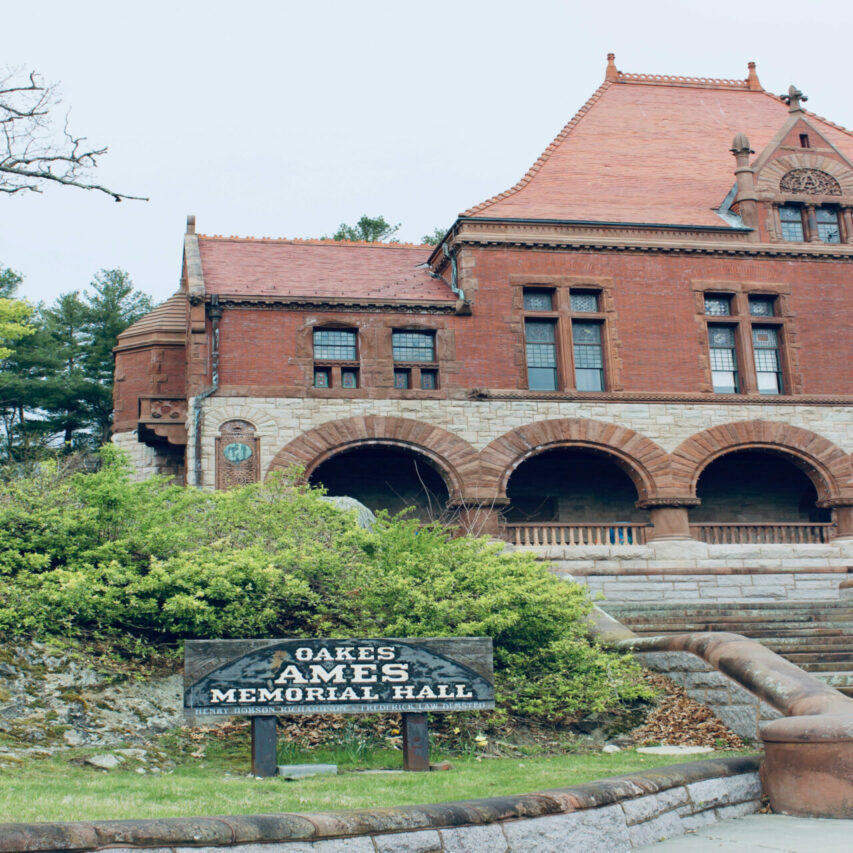 Easton
Incorporated in 1725, the Town of Easton is located 30 minutes from Boston, 45 minutes from Cape Cod, and 45 minutes from Providence. The community is approximately 29 square miles in area and has a 2020 US Census population of 25,053. Easton, although primarily a residential community, has an active and vibrant small business community along with an Industrial Park off Route 24. There are a variety of restaurants; both large scale and family style, offering residents not only fine dining options, but different ethnic foods as well. In addition, Easton offers its citizens the enjoyment of the Natural Resource Trust "Sheep Pasture" and Borderland State Park. Approximately 15% of the community is dedicated conservation land.
Easton citizens have a long history of supporting an excellent school system that consists of three pre-k-2nd grade schools, an elementary school, a middle school and a high school. The Town is also home to Southeastern Regional Vocational Tech, offering secondary school students an alternative to a traditional high school curriculum. The Regional School provides post-secondary education through a variety of day programs and continuing education night courses.
Stonehill College, founded in 1948, is a nationally renowned baccalaureate institution and is an integral part of the Town, supporting the community with student teachers and with educational and athletic facilities. The campus remains active during the summer months, hosting both educational and athletic camps for children.
The Town's history is uniquely connected with the establishment of the Ames Shovel company in 1803 and the Ames family through many generations. The Ames family not only shaped the Town's economy, but also its geography and architecture. In the late 19th century, the family created a remarkable legacy by donating several landmark buildings to the Town. This was noteworthy not only for its benevolence, but for its architectural significance; the famed architect H.H. Richardson designed Oakes Ames Memorial Hall, the Ames Free Library and the Old Colony Railroad Station. The Wayside estate, built in 1912, was donated in 1960 to the Town and currently serves as Town Hall. The community continues to preserve these buildings today as part of the proud heritage of Easton.
Easton is situated in the Greater Brockton Area, which is strategically located between State Route 128 and Interstate 495, the inner and outer loops around Boston. State Routes 3, 24 and 28 provide easy access to the air, port, and intermodal facilities of Boston and Providence. Principal highways are State Routes 106, 123 and 138. Commuter rail service to Back Bay and South Stations, Boston, is available from the neighboring towns of Mansfield (travel time to BBS: 25-38 min.; 775 MBTA parking spaces) and Stoughton (travel time 30-39 min.; 500 spaces).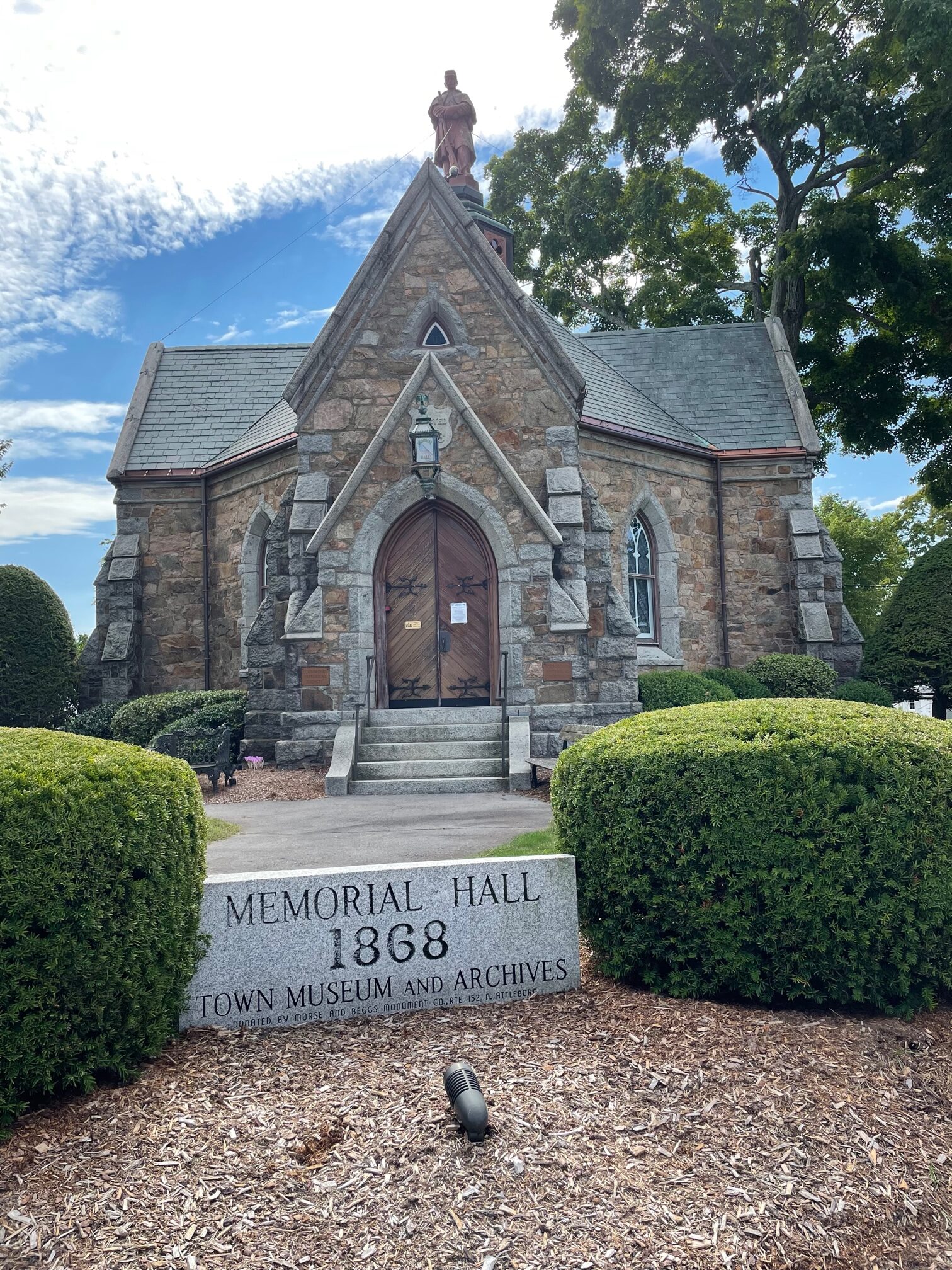 Foxborough
The most frequently asked question…Is it Foxborough or Foxboro?
Foxborough was incorporated June 10, 1778. The 'borough' signifies a free-standing entity with its own government. Almost immediately, the name of the town became "Foxboro" in common usage. The United States Postal Service sought some level of consistency in an 1893 directive, asking postal patrons to use the short form. The request had no official standing and did not change anything other than how most people would address their mail. Bottom line, since being incorporated, the town has been a municipality with a dual identity, Foxborough and Foxboro, and wears both names proudly. Just as one is official (and to some, preferred), and the other more a matter of convenience, familiarity and habit, perhaps, but no less respectful. In the final analysis, much that was Foxborough remained that way as did everything named later as Foxboro but there is now a trend in some circles to opt for the original spelling which delights the purists.
The Town of Foxborough, located at the intersections of Interstates 95 and 495, is known by its residents as "the Gem of Norfolk County".  It is located about 22 miles southwest of Boston, 18 miles northeast of Providence, Rhode Island and about 73 miles northwest of Cape Cod. Foxborough is part of the Greater Boston area. The population was 18,618 at the 2020 census.
There are a total of 5 public schools in the town; three schools (K-4 grades), a Middle School (5-8 grades) and a High School (9-12 grades). Private schools include SAGE, Sabis Charter, the Montessori School and other nursery schools.
The Board of Recreation provides an eight-week summer program at the Booth field and a year-round schedule of activities. Boyden Library, located off the Common on Bird Street, is a cultural and informational center providing lifelong and recreational learning.
Points of interest include: Foxboro Grange Hall, Orpheum Theatre, Gillette Stadium, Patriot Place, Harold B. Clark Town Forest, F. Gilbert Hills State Forest, Memorial Hall, Normandy Farms Campgrounds, Canoe River Campground, Kersey Point on the Neponset Reservoir, Hersey Farm and Wolf Meadow.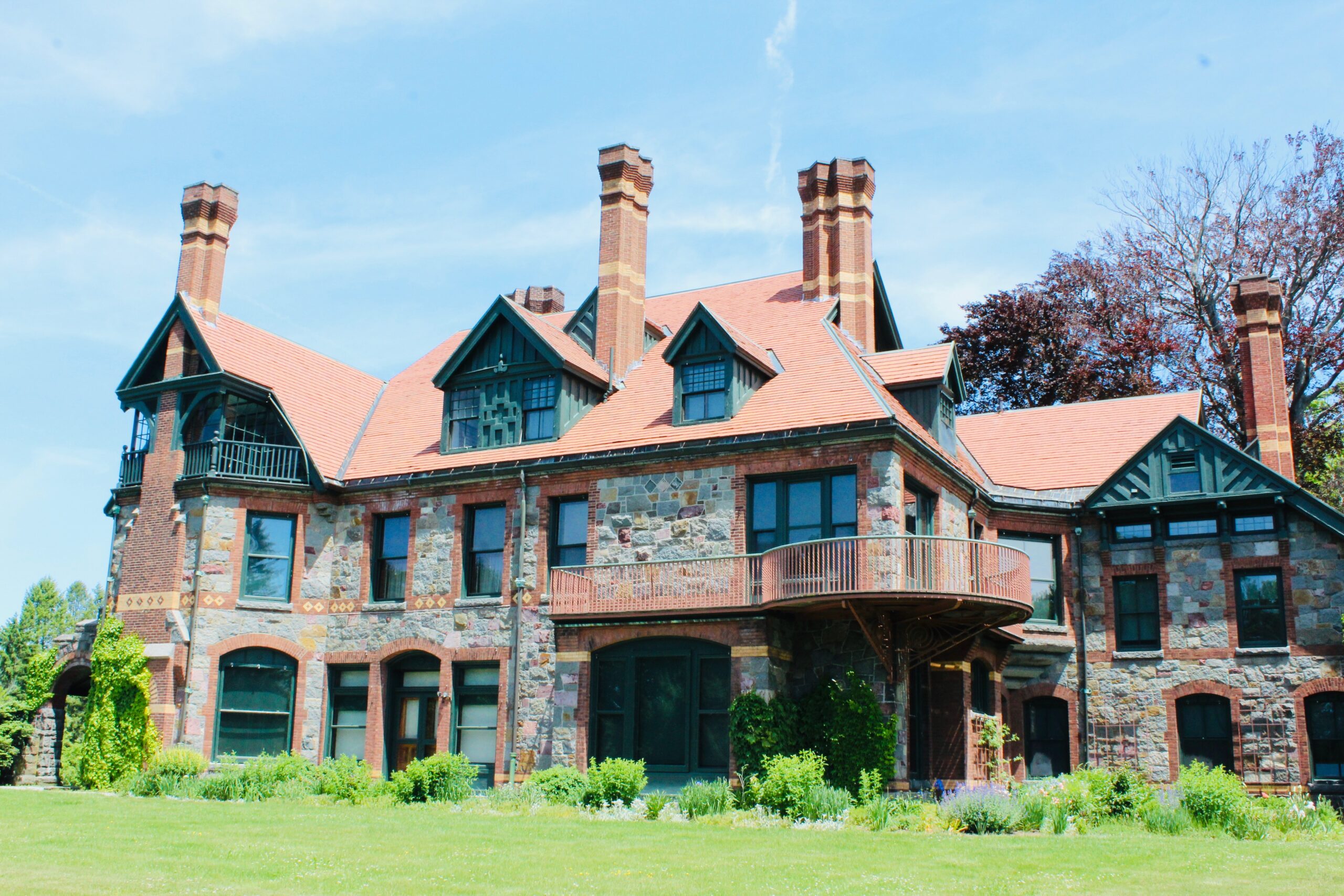 Milton
Milton was settled in 1640 by Puritans who began the settlement of Massachusetts Bay Colony in 1630. The Town was incorporated as an independent town in 1662 and remains as such today. It borders the burgeoning city of Boston on the north along the Neponset River.
The Town is a contemporary suburban community that prides itself on a rich historical heritage, tree-lined streets and acres of protected open space. Milton is unique in that it has the most privately and publicly conserved land within 20 miles of Boston, giving the town a bucolic atmosphere near the cultural and business opportunities in the Greater Boston area.
Residents have quick access to major highways such as Routes 128, Interstate 93 and Interstate 95. The Red Line into Boston via the Mattapan Trolley is also available.
The Milton Public School system consists of 6 schools: 4 elementary, a Middle School, and a High School. Milton is also the home of renowned private schools such as Milton Academy, Fontbonne Academy, and Curry College.
Some of the Points of Interest include: Blue Hills Trailside Museum, Blue Hills Reservation, Blue Hills Ski Area, Houghton's Pond, Forbes House Museum, Eustis Estate Museum and Study Center.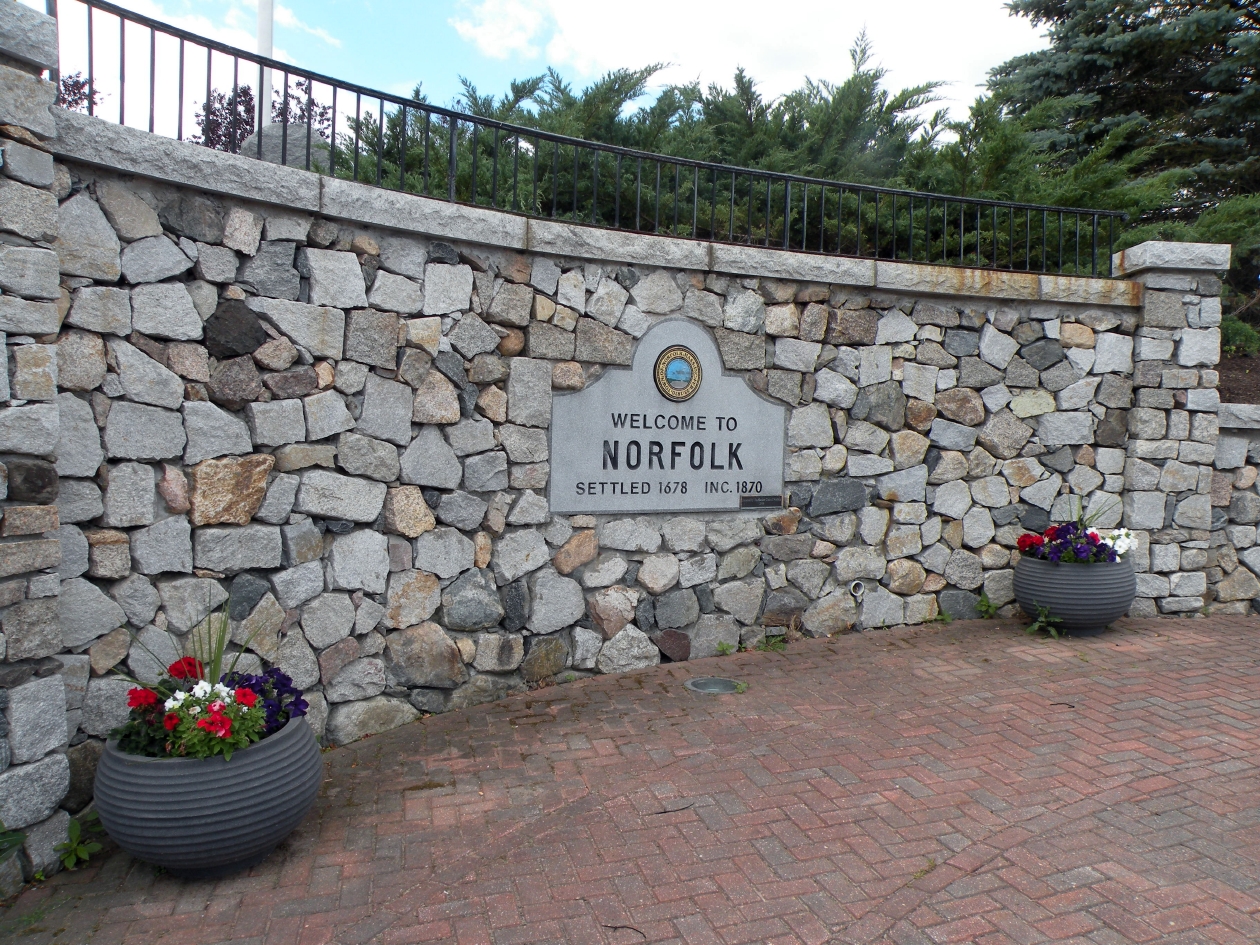 Norfolk
Norfolk is a rural suburban town on the periphery of metropolitan Boston. There were six small farms in the town after 1669, the result of a determined effort to populate the colonial frontier that had good agricultural lands, fresh water fishing and fish runs. The populace left during King Philip's War. When Norfolk was reestablished, the settlers relied on agriculture and cattle grazing with some considerable lumbering and planting of orchards. In the early 19th century contton manufacturing companies were established at Stony Brook, and later that century a paper mill was opened at Highland Lake. The town saw a rapid increase in population after 1925 when a hospital and a state prison were built. Major residential development took place before 1940 and suburban residential building has continued since.
Norfolk is bordered by Millis and Medfield on the north, Walpole on the east, Foxborough and Wrentham on the south, and Franklin and Medway on the west. Norfolk is 20 miles southwest of Boston; about 21 miles north of Providence, Rhode Island; and about 205 miles northeast of New York City.
The town is part of the Massachusetts Senate's Norfolk, Bristol and Middlesex district.
As of 2022, there are three public schools located within the town: an elementary school that serves grades Pre-K–2, another elementary school  that serves grades 3–6, a Middle School serving grades 7–8. Upon entering the 9th grade, students go on to a Regional High School in Wrentham or, two specialty high schools.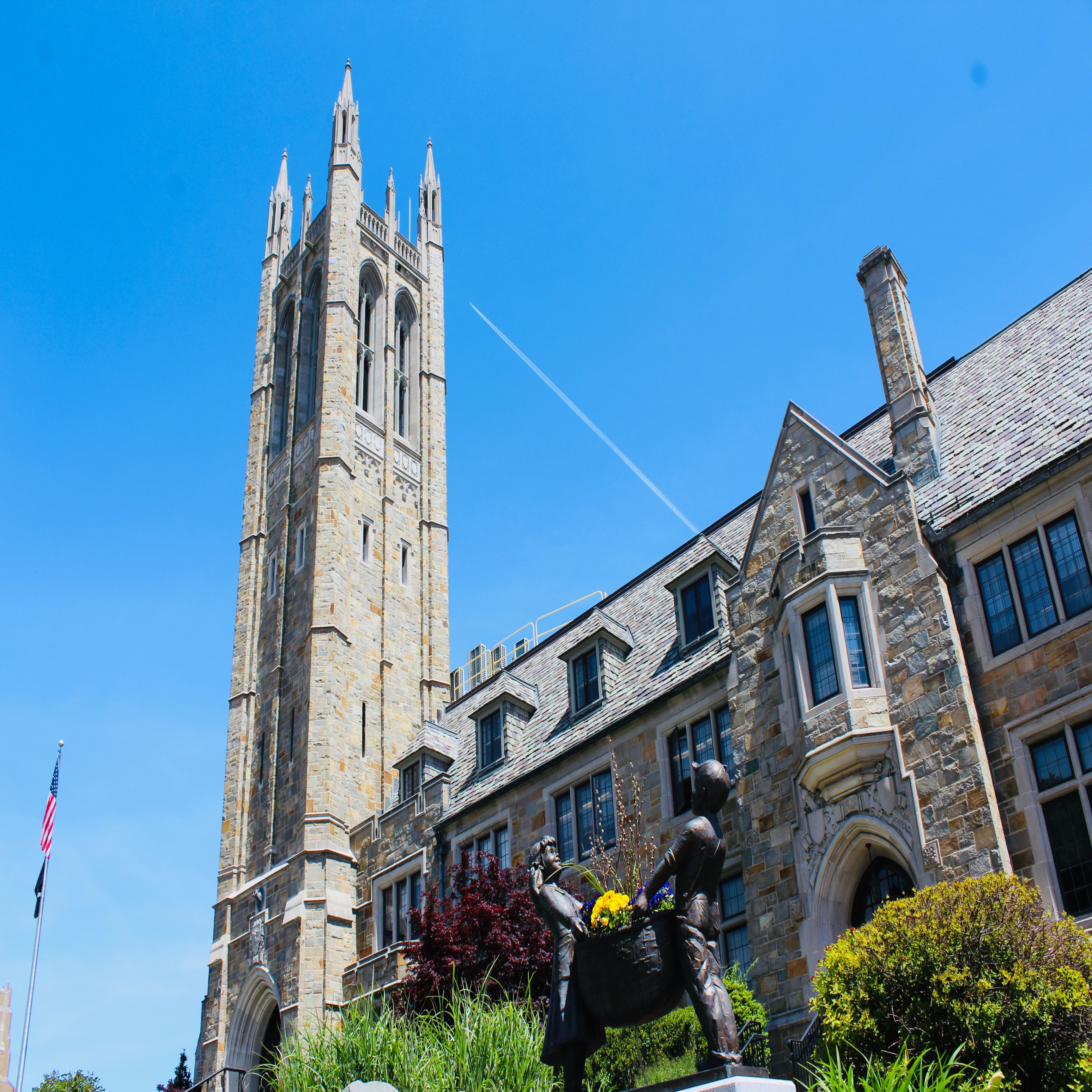 Norwood
The Town of Norwood was officially formed in 1872. During the American Revolution, there was a Minuteman company organized in the area. Its captain, Aaron Guild, on learning of the British marching on Lexington and Concord to seize the munitions stored there, rode to join the fight, and arrived in time to fire on the British at Concord Bridge and participate in the running battle that chased the Redcoats back to Boston.
Norwood is part of the Greater Boston area and as of the 2020 census, the population was 31,611. It is located on the Neponset River has a total area of 10.6 square miles, of which, 10.5 square miles is land and 0.1 square miles is water.
Norwood's town square is dominated by its town hall, the Norwood Memorial Municipal Building. It includes a 50-bell carillon tower housing the Walter F. Tilton Memorial Carillon, one of nine carillons in Massachusetts. Another noteworthy building is the Morrill Memorial Library, Joseph Ladd Neal, architect.
The Norwood Public Schools Department operates an early education center (preschool and kindergarten children), five elementary schools, a middle school (6th through 8th graders) and a high school (grades 9–12). In addition, the Department operates the Universal Technical Institute. The Fine Mortuary College in Norwood includes a one-room museum featuring antique embalming tables and centuries-old wooden coffins.
A large cluster of automobile dealerships on Route 1 is known as the Norwood "Automile". University Avenue in Norwood is the site of a semiconductor company, a medical software provider and a state-of-the-art clinical development site that is  the primary manufacturing site for one of the COVID-19 vaccines.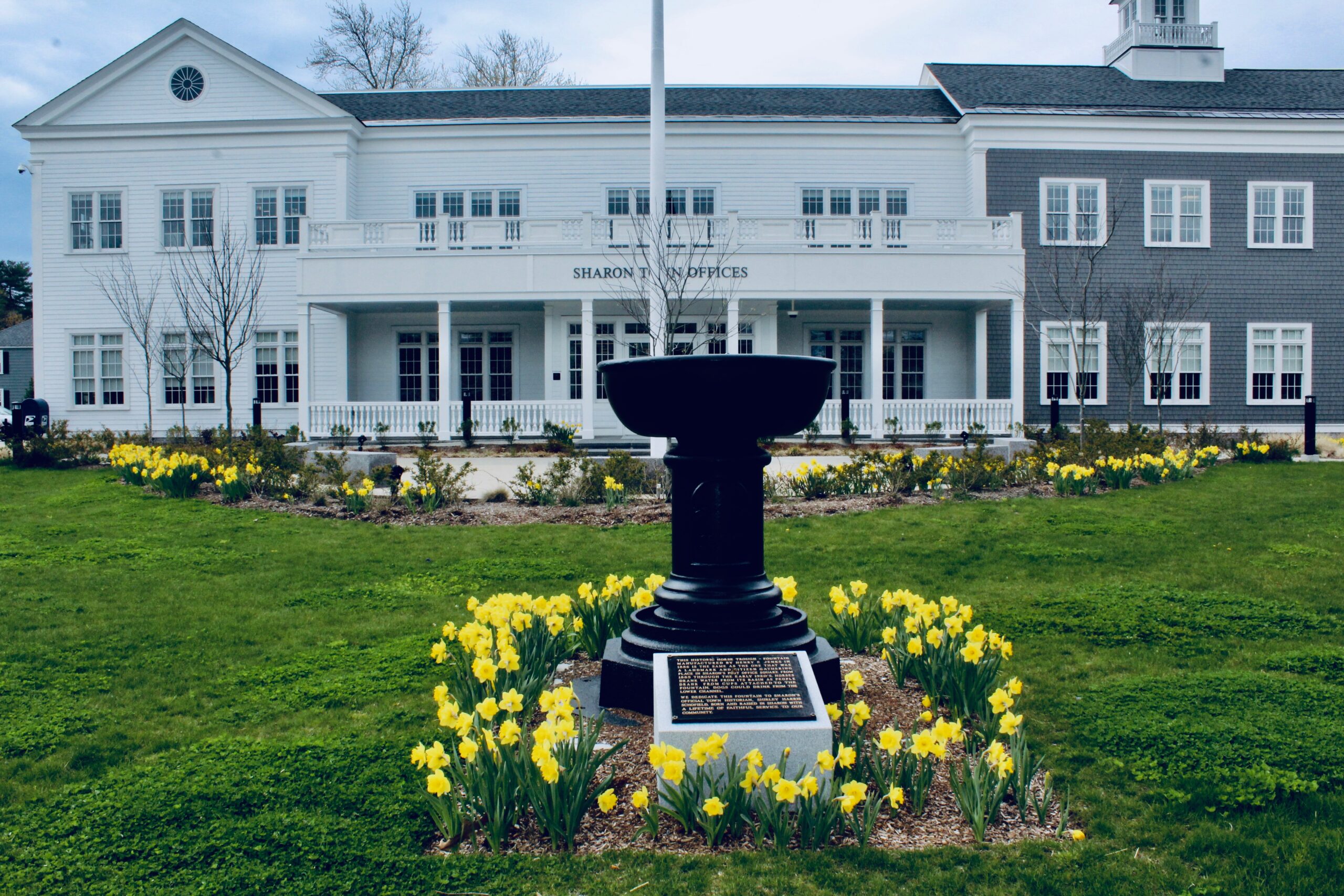 Sharon
Sharon was was incorporated as the Town of Stoughtonham in 1765 and named Sharon in 1783. Native Americans hunted and fished in the area for hundreds of years before British settlers came in 1637. During the American Revolution, the townspeople–mostly farmers and craftsmen–made cannonballs for the Continental Army. Among the old homes surviving since those times are the houses of the patriots Job Swift and Deborah Sampson Gannett.
Beauty and diversity are key words used to describe Sharon. "Lake Massapoag–the treasure of Sharon for its fun, beauty, and peacefulness," is known for its concerts, fireworks, fishing, and swimming on Memorial Beach. The Town proudly holds 5,000 acres of protected open space that includes more than the 2,250-acre Massachusetts Audubon Moose Hill Wildlife Sanctuary, and 1,260 acres within Borderland State Parks, the Warner, Massapoag Brook and King Philip's Rock nature trails. An Interfaith Clergy Council and an "Affirming Diversity" group foster cooperative understanding among several religions.
Located 22 miles south of Boston, and almost midway between Boston and Providence, the populace has access to Boston and Providence via MBTA commuter trains stopping at the Sharon station and to New York City and Washington, D.C., via Amtrak trains at nearby Route 128 station. 
The Sharon School Department oversees a high school, a middle school, a regional vocational school and three elementary schools, all of which are committed to excellence in educating students.
Sharon is home to an active Community Center, a Recreation Department and citizens' groups that many community events for all ages.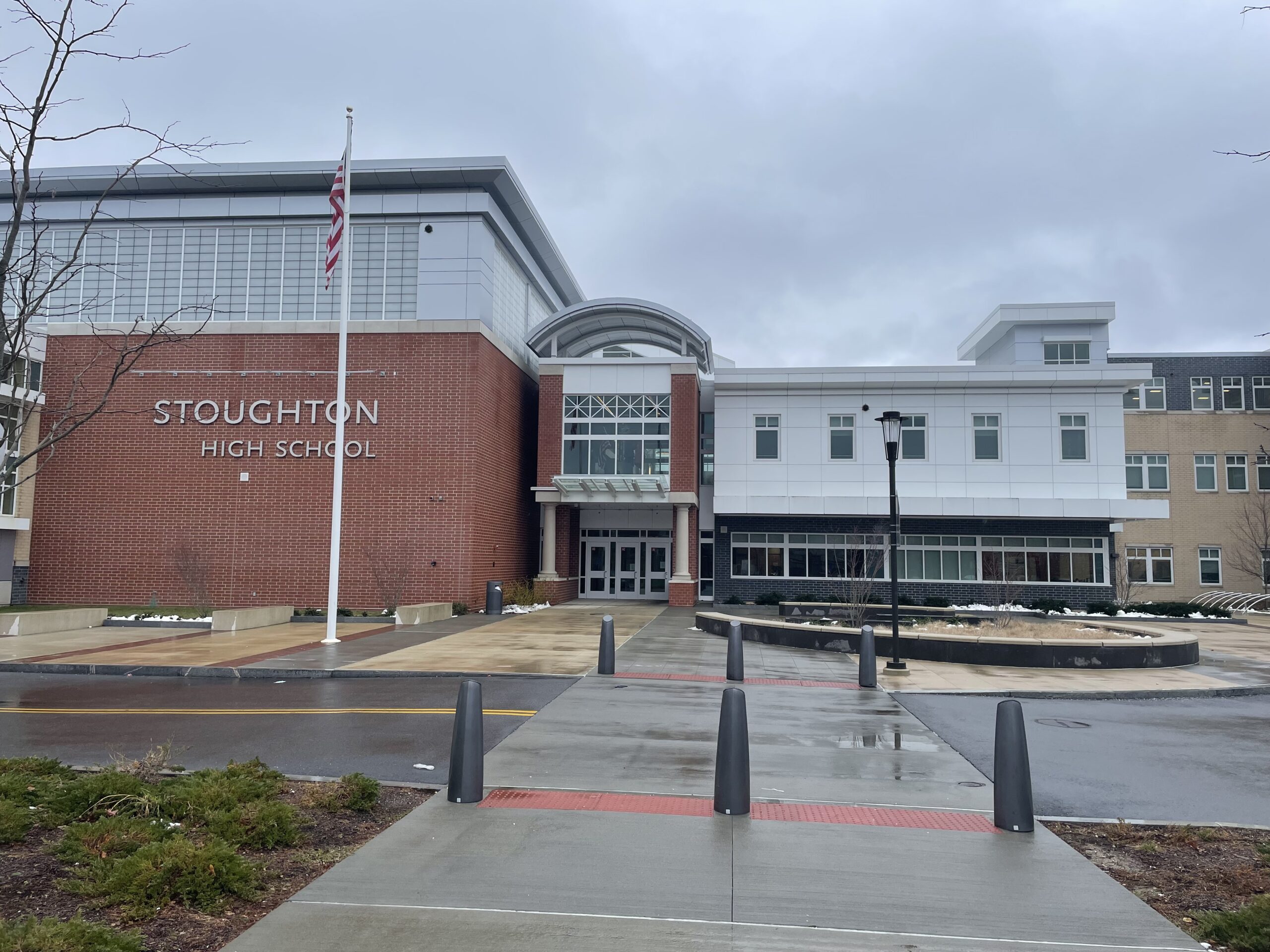 Stoughton
Stoughton was settled in 1713, and officially incorporated in 1726. It was named after William Stoughton, who was the first chief justice of Colonial Courts, and the notorious chief justice of the Salem Witch Trials. It is located approximately 17 miles from Boston, 25 miles from Providence, and 35 miles from Cape Cod and is part of Norfolk County and populated by 29,281 residents according to the 2020 census. The town has a total area of 16.3 square miles; 16.0 square miles is land and 0.2 square miles (2.41%) is water. 
Stoughton is on an MBTA commuter rail line that runs to South Station in Boston via the Providence/Stoughton Line. The Brockton Area Transit Authority (BAT) provides local bus service.
The Stoughton Public Schools operate a preschool, five elementary schools, a middle school and a high school. Several organizations exist in the town for recreation and sports.
The Suffolk Resolves were written in Old Stoughton (current day Milton, Massachusetts) at Doty's Tavern. They are thought to be the basis for the Declaration of Independence. The meeting included the Rev. Samuel Dunbar and Paul Revere; the site was chosen by Samuel Adams and Dr. Joseph Warren.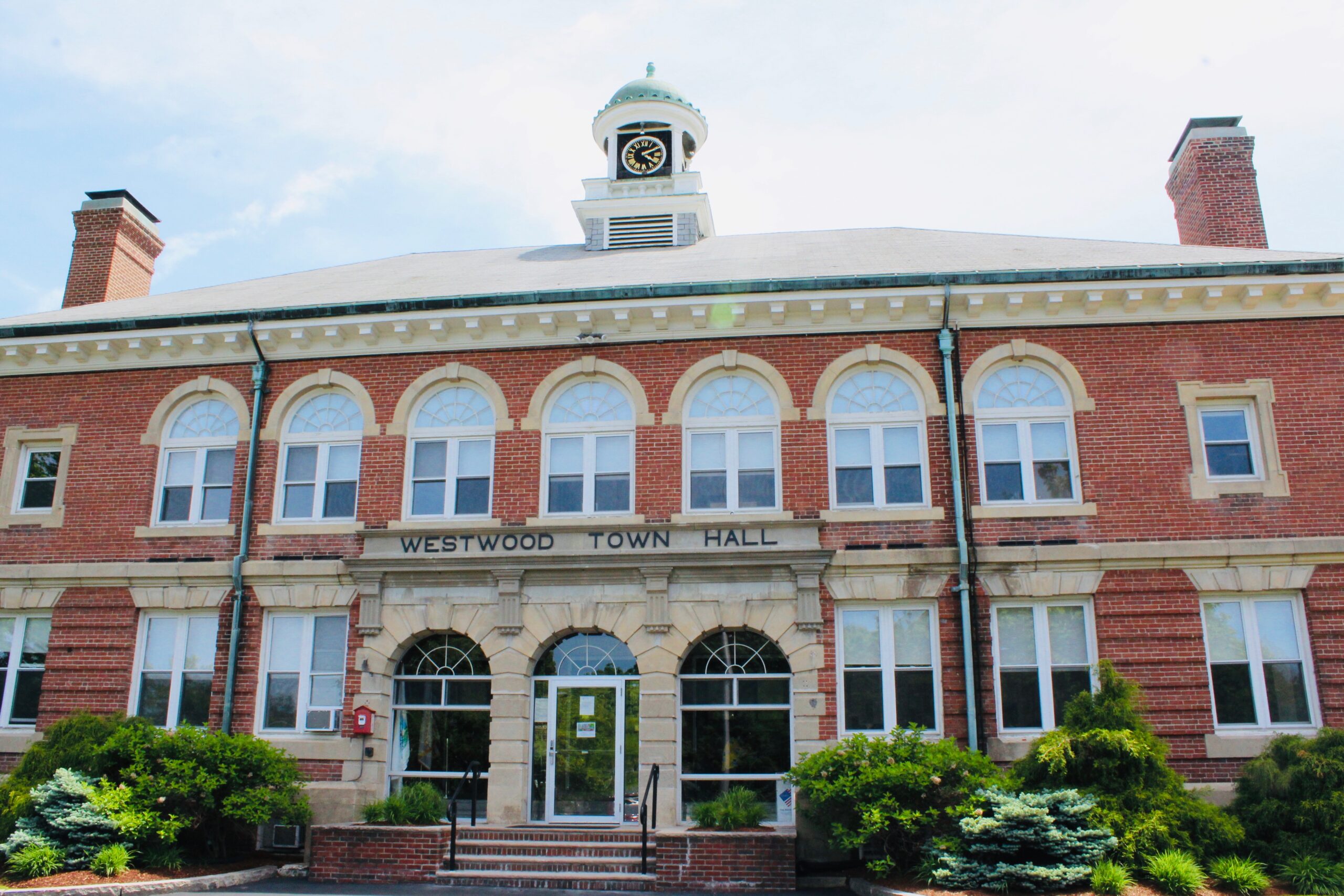 Westwood
The town of Westwood was officially incorporated in 1897 and is located in Norolk County. As of the 2020 Census, Westwood is a community of 16,266. Westwood is situated at the junction of Route 95/128 and 93 and provides an excellent location for its residents with easy access to Boston, but with all the elements of a beautiful suburban community. Westwood also has two commuter rail lines and full MBTA bus service on Routes 1 and 1A (Washington Street) and is 12 miles southwest of Boston.
Westwood is recognized for the quality of its education. There is a preschool, five elementary schools, a middle school and a high school. The Town also encourages and maintains many recreational areas and facilities. Westwood is home to Xaverian Brothers High School and the Westwood Montessori School.
Westwood is home to over two hundred businesses in established commercial areas, each varied in character. University Station, a mixed-use overlay project, is conveniently located near the Route 128 train station with a commuter rail stop and the station is the sole regional stop for AMTRAK high-speed rail service from Boston to New York and Washington. The highway business district, Route 1, is comprised of larger retail and service establishments as well as corporate offices. The shopping areas of High Street and Islington's Washington Street provide retail services for residents that enhance the quality of life in town.
Points of Interest include: Hale, Westwood Library, Colburn School, the rock that King Philip's men hid inside during King Philip's War and Buckmaster Pond.
Content for this page was obtained from Wikipedia and town websites.